---
Thank You for attending BoBfest 2021! See you next year!
Watch a replay of BoBfest 2021 on our Facebook Page https://fb.watch/3bW4g2GFI4/
---
Please consider a gift to keep BoBfest running in the years to come. When we return to in-person events, our expenses also return! Thank You!
---
Resources and web links presented during BoBfest!
---
Schedule
Friday, January 22,2021 at 8 p.m.
Online program from Appalachian State University Dark Sky Observatory presented by Dan Caton
This event is hosted by Appalachian Dark Sky Observatory and is part of their outreach program. It is graciously offered to registered BoBfest participants.


Saturday, January 23, 2021 - VIA ZOOM
8:45 a.m. - Welcome and Announcements


9:00 a.m. - Richard Wright, Jr. - The Art and Science of Astrophotography.
Don't let anyone tell you that your "pretty pictures" have "no" scientific value. There are different kinds of scientific data and observations, and there's room for scientific inquiry and even new discoveries among todays practicing astrophotographers, even if they are just interested in taking nice images of deep sky objects. Even the most casual astrophotographer is making and recording real and valuable qualitative observations in their work. For those with a more technical aptitude — no, machines and automated surveys have not eliminated your roles either. There are still numerous ways to make and contribute quantitative observations that can contribute to our growing scientific knowledge and understanding.

9:45 a.m. Break and Announcements


10:00 a.m. - Jonathan Ward and Michael Leinbach - Authors of "Bringing Columbia Home: The Final Mission of a Lost Space Shuttle and Her Crew".
On February 1, 2003, the space shuttle Columbia disintegrated 200,000 feet above east Texas during re-entry from a sixteen-day mission. More than 25,000 people were involved in the three-month search for the remains of her crew and debris from the shuttle. It was the largest land-based search and recovery operation in history. Remarkably, the remains of all of Columbia's crew members were found and returned to their families. In addition, 38% of the shuttle—nearly 85,000 pounds of material—was retrieved as a result of a painstaking search of every square foot of an area equal in size to the state of Delaware. Columbia's reconstruction at Kennedy Space Center, and the analysis of its data recorder, enabled NASA to determine the cause of the accident and successfully return space shuttles to flight." https://bringingcolumbiahome.wordpress.com/about/


Click image for purchase info.

10:45 a.m. - Break and Announcements


11:00 a.m. - Keynote Talk - John O'Neal
John will share live solar images & video from his backyard Observatory, weather permitting. If cloudy, John will give an informative presentation on s olar observing & imaging with narrowband monochromatic solar filters . You can visit John's website to learn more about his upcoming schedule, available programs, image galleries, videos and more. http://www.ncstargazer.com



12:00pm - Nora Coffey, Park Ranger at Lake James State Park. - Mitigating Light Pollution.
Nora will share the latest in light pollution abatement strategies and techniques. Nora is the Park Superintendent over Lake James State Park where she has worked since 2007. Though her professional background is rooted in Forestry and Park Management, Nora has always made time for environmental education and interpretation throughout her career. Nora became interested in Astronomy in 2009 after attending a Sky Rangers workshop at Bryce Canyon National Park. It was during this weeklong intensive training that she learned not only how to interpret Astronomy for the general public, but why it is an important topic to share with her visitors. Her public Astronomy programs, which have been co-hosted with the Catawba Valley Astronomy Club since 2009, are among the most popular educational programs offered at the park. This year at BoBfest Nora will share how she educates her visitors on light pollution and the importance of dark skies. https://www.ncparks.gov/lake-james-state-park/home

1:00 p.m. - Final Announcements


---
Presenters
Dan Caton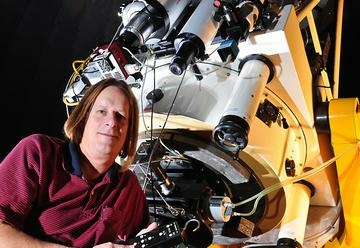 Dr. Daniel Caton, Professor and Director of Observatories, Dept. of Physics and Astronomy, Appalachian State University has graciously invited BoBfest participants to attend a virtual stargaze with the 32" scope at the ASU Dark Sky Observatory via Zoom! Dan says we will have the waxing gibbous Moon transiting the meridian then. Mars is nearby, as well as Uranus, M42, M1, M31, and M33. Some galaxies, too. Lots of targets! For more on Dr. Caton and the Dark Sky Observatory check out his bio page here http://dsoftp.appstate.edu/web/Personal/BioSketch.htm. And, here is where we will be visiting https://dso.appstate.edu/


Richard Wright

Richard Wright, Jr. is a software engineer specializing in computer graphics technologies. A life long amateur astronomer, Richard has worked both full-time and part-time for Software Bisque for over 18 years developing astronomical imaging software and device plug-ins, and is a monthly blogger for Sky & Telescope Magazine (Imaging Foundations blog) and frequent contributor to the print edition. Richard is also an award winning astrophotographer who's work has appeared in numerous magazines and has been featured in NASA's Astrophoto of the Day (APOD). https://eveningshow.com/about-me/


Michael Leinbach

Michael D. Leinbach was was the final Shuttle Launch Director at NASA's John F. Kennedy Space Center (KSC), Florida. He was responsible for overall Shuttle launch countdown policy, planning, and execution activities. Immediately following the Columbia accident in February 2003, Leinbach led the initial debris recovery effort in Texas and Louisiana. Shortly thereafter, he was named to lead the Columbia Reconstruction Team chartered to determine the cause of the accident based solely on the debris collected and reassembled at KSC. He was also the driving force behind the Columbia Preservation Team and development of the plan to lend debris to academia for study with the goal of developing better and safer spacecraft in the future. In November 2004, Leinbach was awarded the prestigious 2004 Presidential Rank Award. He has received numerous group achievement and performance awards, including NASA's Exceptional Service Medal in 1993 for his leadership in planning and conducting Shuttle launch countdowns and NASA's Medal for Outstanding Leadership in May 2003 for significant contributions to the Space Shuttle Program. Leinbach retired from NASA in 2011.


Jonathan Ward

Jonathan H. Ward, FRAS is a Fellow of the Royal Astronomical Society and an author of manned spaceflight histories. An avid amateur astronomer, in 2019 he became the first person east of the Mississippi River to image all 110 Messier objects in a single night. He is president of the Greensboro Astronomy Club and has been a NASA/JPL Solar System Ambassador since 2012. He is collaborating with Col. Eileen Collins to write her memoirs, entitled, "Through the Glass Ceiling to the Stars: The Story of the First American Woman to Command a Space Mission." The book will be published in Fall 2021.


John O'Neal

John O'Neal has been an avid AMATEUR ASTRONOMER and astrophotographer for over 45 years. He is a NASA Solar System Ambassador and a member of and contributor to the ALPO and the AAVSO and several Amateur Astronomy Associations around his home in Statesville, NC. He is also Co-Founder of the facebook group, SOLARACTIVITY which boasts a 24,000 strong membership worldwide.
He has authored numerous tutorials on solar imaging a s well as equipment reviews and is a Contributing Editor of Astronomy Technology Today and has recently been named as an Associate Editor for Amateur Astronomy Magazine, where he write s a recurring article on Solar Activity.
Since retiring, John and his lovely wife, Dorothy have taken to traveling and he has given countless presentations to the general public and to amateur and pro astronomers across the U.S.A:including the Terrestrial Earth Sciences Seminar in Indiana, at SOLARFEST in Missouri, at The Regional Gathering of Amateur Astronomers, in NC, at The North East Astro Imaging Conference or NEAIC, in NY, at The Okie-Tex Star Party, the Peach State Star Gaze in Georgia, at The Winter Star Party in the Florida Keys and at the Charlotte Amateur Astronomy Club & Greensboro Astronomy Clubs in North Carolina.


Nora Coffey

Ranger Coffey joined the North Carolina Division of Parks and Recreation in 2007. A native of Chicago, I.L., she is a graduate of Southern Illinois University. Before becoming a park ranger, Coffey worked at the renowned Shedd Aquarium in Chicago. In 2009, Coffey was promoted to her current rank of advanced ranger. In addition to coordinating the park's I&E program, Ranger Coffey is in charge of the time- consuming campaign to treat and save the northern and Carolina hemlocks within the Lake James State Park boundary from the destructive hemlock wooly adelgid. She also heads up the park's box turtle tag- ging project. "I love teaching people about the resource manage- ment activities we do at Lake James and why we do them," said Coffey. "It's very rewarding to be able to pass along what I learn about the natural world and in turn promote its stewardship."


---
---
Please consider a gift to keep BoBfest running in the years to come. When we return to in-person events, our expenses also return! Thank You!
---